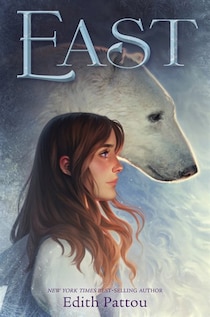 Title: East


Author: Edith Pattou
Rating: 8/10
Summary:
Violet eyed and willful, Northborn Rose doesn t fit perfectly with her family, and doesn t behave as her mother would have her behave. When an enormous white bear comes to the door of her family s home, with the promise that he will heal her sister and help see her family through the hard times that have fallen on them, Rose readily agrees. She sets off to live in a castle with all of her needs accommodated for and secrets hidden by the pitch-black night. When she discovers a very important secrets, she must journey pretty much literally to the ends of the Earth to right a wrong and save the one she cares about.
Response:
I loved East. It is a wonderful fairytale retelling, a retelling of East of the Sun, West of the Moon. The characters are three-dimensional and engaging, and there is no simple evil. The heroine, Rose, is a strong and diverse female lead. Told in several viewpoints, it is a book I would recommend to anyone who likes fantasy and fairytales, and isn' t afraid of a slightly large page count (the hardcover copy comes in at over 490 pages). It was excellent, and I personally read it all in a day or so, without putting it down much at all. It is fantastic read if you like fantasy fiction. I read it in the summer, though I consider it more of a winter read, something to cozy up with after spending time out shoveling.
This Book Was Read: As I wandered around the house, trying to do everything one-handed. It took a surprisingly short time to read, given the page count.