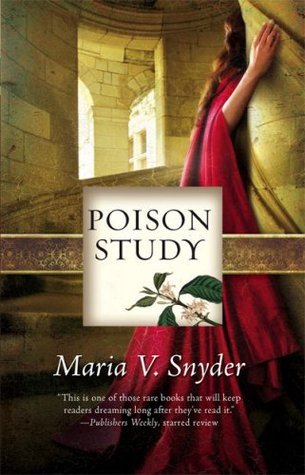 Title: Poison Study
Author: Maria V. Snyder
Series: Study
Volume: 1
Genre: Fantasy
Release Date: March 1, 2007
Goodreads
A Quick Introduction: Yelena is about to be executed for murder, when she is offered a chance to live as food tester to the ruler of her nation. Though the job is not without risk, and she will never be truly free, she takes it. As she learns to navigate her new position, and attempts to find a way that she might be free, unrest in the nation spreads. Yelena must tread carefully, especially when she begins to develop strange magical abilities beyond her control.
Out of Ten: 7/10
Review at a Glance: An enjoyable opening to a fantasy series, though the characters were somewhat difficult to connect to, and the world would benefit from more detail.
Review:I enjoyed this one, though I was hoping to like it more. I like the premise a lot- Yelena is offered a choice- to be executed for murder (all killings are considered punishable be death, no matter what the reason), or to become food taster for the leader of Ixia, and likely eventually die by poison.
I found Yelena fairly likable, though I did not completely connect to her. Perhaps part of it was that she felt very multi-talented without being multifaceted? She felt generally quite straightforward as a character, though I could see that she was meant to have depth, that depth just didn't feel completely real to me. This aside, she's a very enduring person, she's had a lot of horrible things happen to her in the past, and she pushes on despite that. She's fairly intelligent and curious, and slow to trust because of her past, and forms bonds to other people slowly.
As a result, she takes some time finding her place in the palace, but she does make friends. One complaint I did have was that her relationship with her love interest, Valek, moves very quickly from friendship. It seemed strange, given the abuse in her past, for Yelena to be comfortable moving that quickly into an intimate relationship. It just seemed sudden, it might have done with more build-up, more time for the relationship to evolve.
The world was one that lacked a history, as there was a recent uprising, replacing the nobility with a military leader. The new leadership bans magic, endangering Yelena further, as power begins to awaken in her. I would have liked for there to be more depth to the world, parts of it were hard to picture. The plot was engaging, both a complete story and a part of a larger arc, as this book is part of a series.
Overall, I enjoyed this book, and I am planning on continuing the series, and I hope that I will connect more with Yelena in the next book.