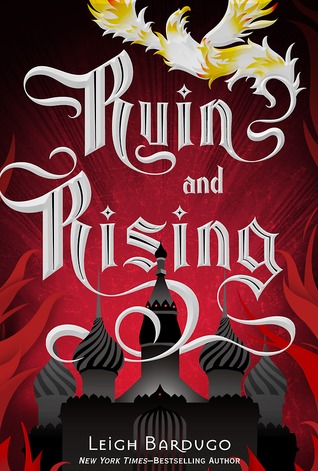 Title: Ruin and Rising
Author: Leigh Bardugo
Series: The Grisha Trilogy
Volume: 3
Genre: Fantasy, Romance, High Fantasy
Release Date: June 17, 2014
Goodreads
A Quick Introduction: (Spoilers for books one and two). Alina's fight with the Darkling almost killed her. Weakened, she is now in hiding, recovering in a network of caves deep underground, sheltering with the Apparat and those who have declared her a living Saint. But she cannot remain hidden forever. She is the only hope the world above has of destroying the Fold, and of being free of the Darkling's rule. To get the strength to do this Alina must unite Morozova's amplifiers, even as she uncovers long-hidden secrets- about the Darkling, about Morozova, and about the truth of her own power.
Out of Ten: 7/10
Review at a Glance: A good conclusion to a trilogy set in a fascinating and wonderfully built world.
Review:With the disclaimer that this will contain spoilers for the first two books in the trilogy, so if you haven't read those, and don't want to be spoiled, shoo. Overall, I really enjoyed this as an ending to the trilogy. There were still some flaws, but despite them I enjoyed the world, and much of the story.
One of the greatest strengths of this series is its cast of characters, especially the secondary characters. Something that can happen in first-person point of view stories is that the secondary characters take a back seat. Not so with this story. While this is very much Alina's story, the many of the other characters are vivid.
Alina herself is something of a difficult character. She isn't a typically "heroic" character in a lot of ways. She doesn't jump at the call to arms, and she considers how nice it would be to just leave the country to it's ruin. She's not naturally selfless, and she is power hungry. This makes her both a very human character, and one that sometimes made it a little challenging to be cheer on wholeheartedly. She is also continuously questioning if an Alina with all three amplifiers will be any better than the Darkling is. The Darkling makes a compelling antagonist (and to me, he has always been a villain, but he is a three dimensional one), with his own history and his own motives, and I think that is all I will say about that.
If I have a complaint about the plot, it was that it moves a little strangely. Breaking it down into events, not all that much happens in the main plot. A layer of the book is the plot, and another (often more overriding) layer is how Alina feels about what is happening, and Alina's personal journey. While generally they were reasonably well balanced, there were times that the action could have been more pronounced, with a little more emphasis on the physical story. There were some aspects of the story that might have benefited from some more foreshadowing. I also felt that the romance could have been minimized slightly or done differently. There was just something about some parts of it that didn't really work for me.
A strength of all of the books in this trilogy is the setting. Leigh Bardugo makes an enthralling world (compete with a map-I am a sucker for a map). It's a world that is complete with fantastical locations and dangerous creatures, and it was one of my favourite aspects of these stories. Leigh Bardugo paints an image with her writing. She writes in a way that appeals to the senses, and a I very rarely found myself jolted out of the story. Generally, it flowed well, and fit in well with the story itself, adding to the reading experience.
All in all, I enjoyed this book as a conclusion to the series. While there were still some flaws with the storytelling, especially toward the ending, I still found that it, for the most part, wrapped up this trilogy well. I'm looking forward to the next series, also set in the Grisha world.