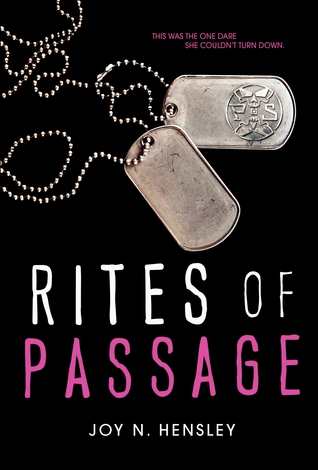 Title: Rites of Passage
Author: Joy N. Hensley
Genre: Realistic Fiction, Contemporary
Goodreads
A Quick Introduction: Sam has always had a weakness for dares, which is how she finds herself enrolled in the first female group of students at Denmark Military Academy. It is the last dare that her brother ever gave her, and is will be the hardest one for her to follow through, because there are people who don't want the school open to women. People willing to do anything that they can to get her out.
Out of Ten: 8/10
Review at a Glance: A strong debut driven by character, as well as by plot, though it felt somewhat incomplete.
Review: This was another of the few debut novels that I enjoyed this year. It was a bad year for me as debuts go. It was also a contemporary which I don't usually read, but I enjoyed it more than I was expecting.
Sam was such a strong character. Raised in a military family, she's familiar with a lot of the demands of that life, as well as being under constant pressure from her father, a well respected officer. She enrolls in the DMA knowing that the stakes are against her- there's a lot of people who don't want a girl at the academy, and will do just about anything to send her packing. But Sam is tough as nails, and doesn't back down from anyone. She's incredibly determined, though not without her struggles. While the attempts of the boys to scare her off don't shake her, the dynamics within her family make her insecure. She had her vulnerabilities, and they made her seem human, when her determination and strength might have made her seem inhuman.
I don't usually read contemporaries, but I did enjoy the plot of this one. While Sam herself was the main force that pulled this novel along, she wouldn't have shone without the plot. She's up against a lot, on top of the rigors of the military school (which are intense), it isn't just a few malcontents trying to get her out of school- it is a secret society, and they seem like they're everywhere. There aren't a lot of people who she can trust. Sam was amazingly tough, and someone who I found myself really rooting for.
I didn't end up minding the romance in this one. I was a bit worried about a love triangle, but it didn't really end up happening, so that was nice. I did like that the relationship between Sam and Drill was good in that it was very much based on trust and respect, and was overall quite well done. Sam's relationships with her family were, as mentioned, troubled, especially due to her attending the DMA and her brother's recent death. She does also form some relationships with some of her classmates, but some of them felt a little inconsistent (or possibly cliche?) in their arcs.
Really, for me, my only complaint was that it felt unfinished. There isn't a planned sequel, but it felt very open to another book, and I really would prefer that it have one. There were some aspects that were a little too open ended, more as if certain things had not been touched on (her brother's death, and her family situation were something that I felt could have had more focus). It just felt like there was more to the story, that some things were either wrapped up too easily or not wrapped up (and I couldn't tell which). I think this was part of why I had minor issues with arcs of some of the minor characters. I suppose it was just that I was expecting more.
I greatly enjoyed Sam's character and the plot, though I felt like there was more to the story than what was given when the book wrapped up.