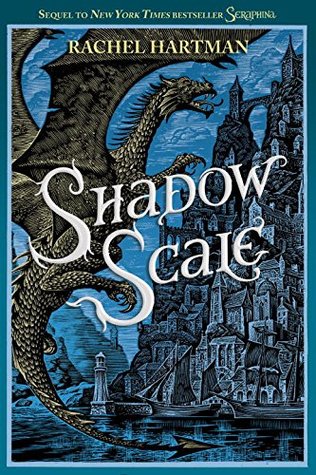 Title: Shadow Scale
Author: Rachel Hartman
Series: Seraphina duology
Volume: 2
Genre: Fantasy
Goodreads
Release Date: March 10, 2015
eARC received through NetGalley.
A Quick Introduction: The alliance between humans and dragons in Goredd, tenuous already, is being tried as the dragons are plunged into a civil war. A war that will soon flood into Seraphina's home country. She sets off on a journey to find other half-dragons, like herself , in hopes they'll be able to help protect her people when the war does break out. But all is not as it seems, and Seraphina might be too late to stop what has been put in motion.
Out of Ten: 8/10
Review at a Glance: Overall, a wonderful, character-driven conclusion to a complex fantasy duology.
Review: That was a marathon. Rachel Hartman takes us back to the world of Seraphina, half-dragon. Things have gotten more complicated for Seraphina, now that the carefully kept secret of her ancestry is out and the clouds of war billow on the horizon.
Seraphina remains a wonderful lead to read (that rhymed, but its nearly one in the morning as I write this, so cut me some slack here). She's determined and delightfully pragmatic (only you, the world says, would find pragmatism delightful). Most of all, she feels human. She struggles with self-doubt, with the fear that she won't succeed. She's a balance of flaws and strengths.
Shadow Scale
is strongly character driven, by Seraphina's development and her relationships with other characters: her friendships with Abdo and Glisselda, her romance with Lucian, her hopes for kinship with the other half-dragons, her love for her uncle, and with the world in general as a half-dragon.
This book was a journey. The majority of
Seraphina
takes place in Goredd, but a lot of
Shadow Scale
is on the road, as Seraphina attempts to locate and bring together the other half-dragons. There's a cast of new characters introduced, and a lot of new places. The world itself was enjoyable in there are recognisable hints of real-world medieval influences from different parts of our world, but nothing that made the culture feel transplanted. The cultures and places were well formed, and the many of the supporting characters are memorable. And what a cast of supporting characters it was.
The cast of characters grows exponentially from that in the first book. Almost all of the characters from the first book play a role in the second, in addition to 15+ (I eventually stopped counting) new named characters. Rachel Hartman does an admirable job of juggling all of the new characters, while still maintaining the pace of the novel.
Plot-wise, a lot happened. If I had a complaint, it would be that it felt rushed- the climax was sudden and came up fast, and if felt like there could have been more build-up to the resolution than there was. Though I was for the most part very happy with how well the foreshadowing in this book was carried out, it felt that there could have been more in how certain aspects were built up. Another flaw lies in the fact that the magic system was never concretely defined. The writing was otherwise consistent, though this book does start off slowly, and is more slowly paced, with exposition.
Overall, I really enjoyed this. It took me just over twenty-four hours to read six hundred pages worth of words. Fortunately, I was home alone, as my family members might have been alarmed by my shouting "No, no, no, you IDIOT. Don't even think about it! Ugh! Why?" at my computer screen (where I was reading my galley).