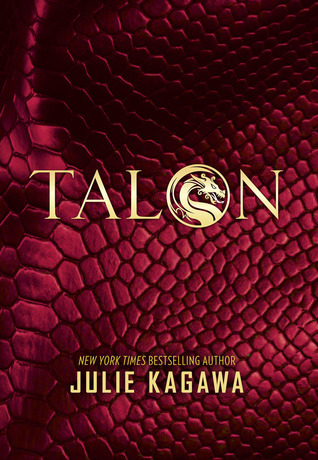 Title: Talon
Author: Julie Kagawa
Series: Talon
Volume: 1
Release Date: Oct. 28, 2014
Goodreads
A Quick Introduction: Dragons live in hiding among the humans. Ember Hill is learning is out in the world for the first time, learning to blend in with humanity, in her human form. Ember is thrilled to, for the first time, be free. This may be her only taste of freedom, before she is inducted into the dragon organisation Talon. Unfortunately, she's got dragon hunters on her tail-dragon hunting has changed over the years, trading swords for guns and armour for carbon-fibre, evolving with the changes in the dragon world. Soldier Garret Xavier Sebastian has been raised to kill dragons nearly his entire life, but he isn't prepared for how human Ember seems, and the growing suspicion that his superiors haven't told him everything.
Out of Ten: 5/10
Review at a Glance: This book is a simple and somewhat predictable series opening, with characters that were somewhat difficult to invest in.
Review: This book was alright, but it just didn't wholly pull me in. The character of Ember wasn't one I found easy to connect- not because she's a dragon, but because she didn't feel like a complete character. All the framework was there, but her thought processes just didn't line up, and her emotions were something that I couldn't follow. It wasn't that I disliked her, it was just that I couldn't connect with her, or Garret really. They both frustrated me sometimes. All this said, they worked alright together- Ember challenged him, and they both grew through the story.
The plot itself was fairly straightforward, and simple. It was, of course, somewhat predictable and it was also a little slow in places, where if felt like there was nothing happening that contributed to the development of the plot. Much of the novel was simply build-up, as this is to the first in a series.
The writing was simple, overall. Something that did bother me about it was that the descriptions and method of referring to characters were both rather repetitive (which is likely linked to the simplicity of the writing style), it just made things feel somewhat unnatural.
Overall, this book just didn't quite work for me. There were parts of the execution that could have been improved and I had a hard time connecting to and investing in the characters sometimes. Though it didn't work for me, I think fans of Julie Kagawa's other work, or people who are interested in the premise might still want to pick it up. I'm still not sure if I plan on continuing the series, I might pick up the next book when it comes out, but we'll see.